Installations allow us to transform spaces with art. The power of l
ight and texture led me to create the installations described below.
Blue Heron Nature Preserve
This installation of three site-specific glass panels was selected as part of the outdoor show "Nesting" for 2023 at the Blue Heron Nature Preserve in Atlanta. After two of the three were vandalized, the remaining panel was moved indoors to the lobby of the Blue Heron Building. The indoor installation is shown here below the three originals.
When I was a child, trees were my primary connection to the world outside my home. I climbed them, read books while nestled among their roots, used bark to build little houses and buckeye shells as canoes in my miniature world. This environment was my nest, where my imagination and spirit could grow in a protected space.
Places like the Blue Heron Nature Preserve are restful because they give me a place to look closely at the tiny details that make up a tree. That focus is meditative and restorative as it completely absorbs my attention.
I chose three sites for my installation.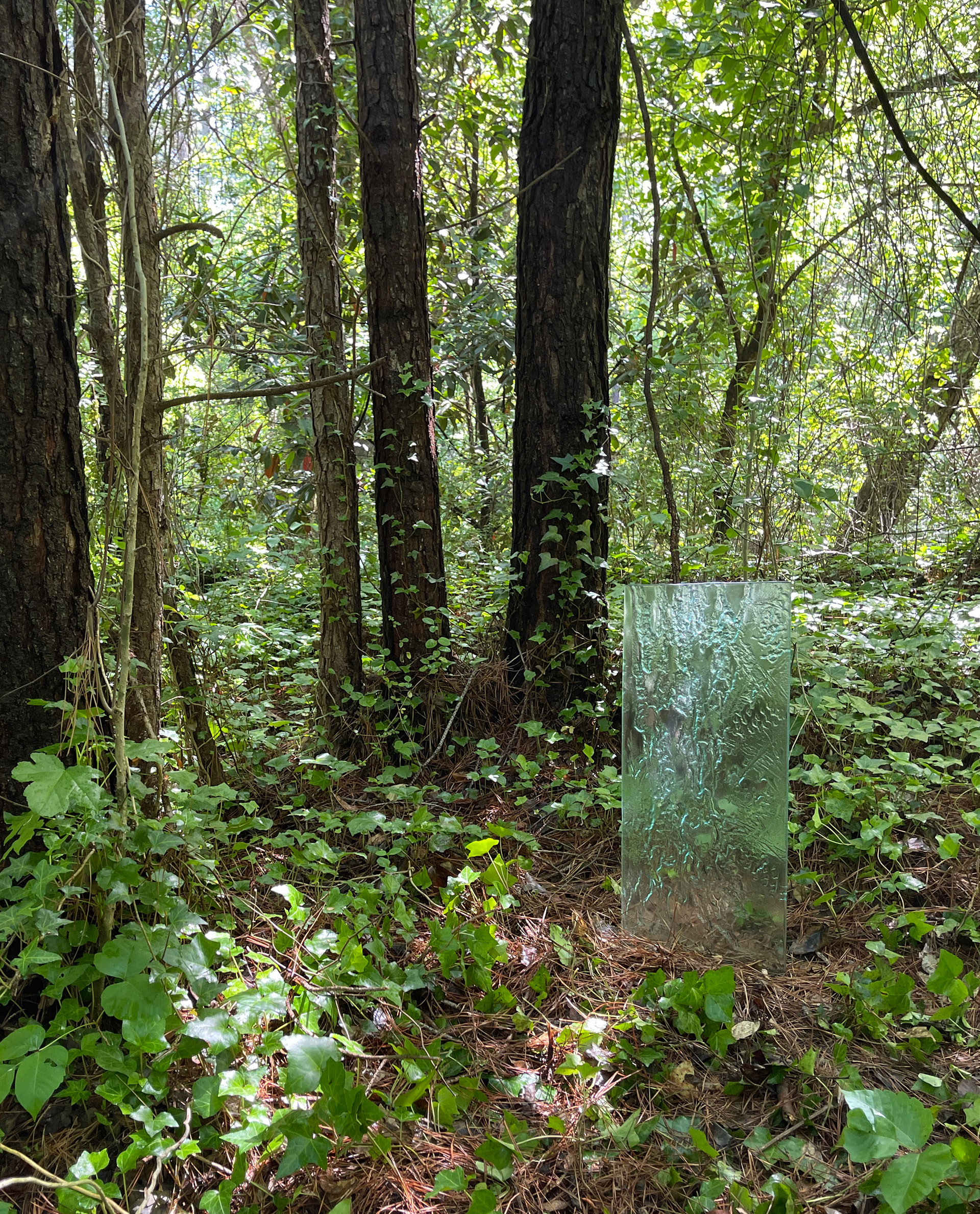 I've watched people walking in the preserve, and their attention is mostly drawn only to large features - the creek waters, the amphibian tubs, or maybe a hunting heron. They're often distracted by their dogs, their kids, their companions, their phones. 
My installation calls attention to the finer details that their gaze passes over, by recreating those details in glass panels that I made with impressions of the bark and natural materials. These panels were installed next to the trees in situ, in order to entice visitors to stop and study the details of that tree's specific beauty. The glass catches people's eye, silently asking, "See what you missed?"
1. 
Loblolly bark is distinctive, with large, deep, scaly plates. You might notice it without ever looking up. I saw a group of smaller loblollies that were near a sweet gum, not far from the community garden on the main trail. I had to crane my neck to see the needles at the top, even though these are fairly young trees. 
I took a clay impression of the bark, and used cones and needles to inspire this glass portrait of a tree that takes a real effort to see. When you notice loblolly bark at eye level, you can lift your spirits and your aspirations by following the trunk aloft.
2.
Just past the rocks at the beginning of where the trail enters from Rickenbacker Drive, there are a pair of box elder maples. You might first notice them because their young leaves are a three-part compound shape that resembles poison ivy. The box elder likes to split as a natural part of its growth, spreading out further than most trees do. The trunks of these two may have originally been one tree, and show a graceful twisting that my eyes like to follow. 
I used bark impressions and ground materials from the neighboring tulip poplar and sweet shrub to design a glass panel imbued with the wisdom of this tree's strategy.
3.
I don't know the species of the fallen snag in this glass panel, just across Mill Creek trail from the creek, north of the beaver restoration bridge. It doesn't matter. 
Fallen trees are still very much alive as they decompose and become part of the insects and soil. In repose, they feed all that's around them, and so I included thriving plants in foreground and background of this portrait.
Elders
: Indoor installation
I returned to the site where Elders had been installed, and carefully photographed the small details in that location. These are the things I was hoping visitors would see once they noticed the glass. I also took a full vertical photo of one of the box elder trees, to give context.
The photographs are mounted on boards and wood scraps. I would love for this wall to become the map for a treasure hunt, clues to the rich gifts that will always be there.
"The Unburied" was installed with the
exhibit 

Inside Out
 at GSU Clarkston campus. 
This installation uses nine markers of kilncarved glass arranged in a grassy space to commemorate the spirits of all who have died. 
The markers symbolically depict how our souls dissolve into the universe, and become part of the wind, rain, snow and earth. Glass, unlike the marble of tombstones, is transparent and refracts light, extending life into spirits.
 "The Unburied" was originally my response to Halloween. For many years, Halloween was a painful holiday for me, because three people I loved all died around Oct. 31. Although contemporary celebrations are commodified and mock death, Hallowed Evening was for centuries the first of a three-day holiday, the day before All Saints Day and All Souls Day, a sacred time to remember the dead.
"One does not become enlightened by imagining figures of light, but by making the darkness conscious."
— Carl Jung, The Philosophical Tree
We bury things, we leave things behind. Yet they remain below the surface, exerting their presence. If we sit in the shadow side, we discover its strength and beauty. 
I love to explore the effect of light on materials and spaces, and I'm interested in how shifts in perspective can pry open our unconscious mind. I chose a basement, cluttered with abandoned objects and the utility systems of an 80-year-old home, as the setting to bring these ideas together in meditation on the shadow side. 
My photographs of the space and its objects are meant to imitate how the eye sees as it adjusts to darkness. When the viewer enters this subterranean space, the digital display of photographs allows them to look into the shadows. We may realize that the twisted infrastructure is essential to the whole; we can recognize the things left behind as valuable; and we begin to integrate the shadow side into our consciousness.